featured collections for affiliates to consider
Get your Zazzle collection featured here learn more...
See what products are popular in our store! Featuring our cute and funny cartoon animal designs.
Bright, happy, funny and cute birthday invitations for kids and kids at heart in cartoon style.
Jewelry for him and for her. Cufflinks, earrings, bracelets - even pocket watches!
Fractal and digital art, depicting one of my favourite subjects: mandalas!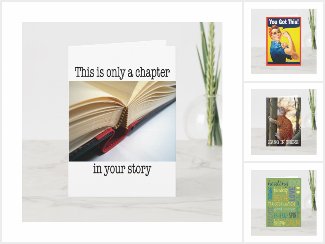 Unique empathy and encouragement cards to show support for someone who has a serious illness such as cancer. When traditional Get Well cards are inappropriate, these fill the need
A collection of barn posters to add some rustic appeal to your visitors' decor
Rainbow glitter for decor & accessories, festive stationery and LGBT pride. Unleash your inner unicorn!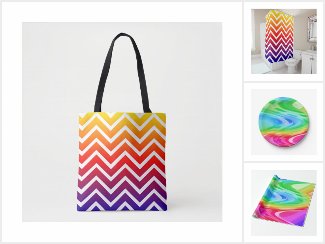 Simple, pretty patterns of rainbow colors. Great for any occasion for the LGBTQ community or for birthdays and holidays.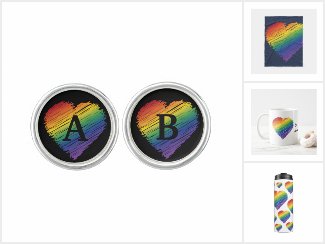 Love is the only force capable of transforming an enemy into a friend. Love will win.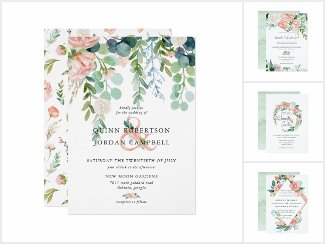 Warm soft shades of greens and pastels are back again for summer, and this ethereal palette proves it. Green willow, soft celadon, warm yellow and coral peach, and delicate lilac purple together.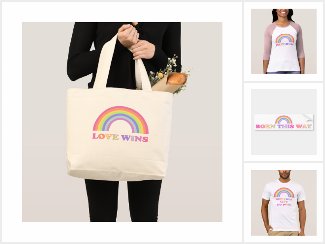 LGBT / Gay Pride Collection, featuring a fun colorful rainbow, with different quotes or cities in rainbow coloured typography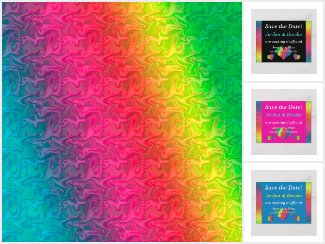 A colorful coordinated collection for creating your own fun unique mix & match wedding suite. Dramatic in its simplicity, this eye-catching ensemble is perfect for anyone who wants to do things a little different. Fully customizable colors & texts.
Promote my work for its variety, quality, and uniqueness, targeting under-served communities that fall within the LGBTQ/MOGAI/GRSM umbrella, and of which I'm a member, making stuff as a service to my own people.
Language does matter. So this collection uses non-binary labels, rather than the old 'bride' and 'groom' labels which tend to place emphasis on gender. These products are marketed to couples instead of focusing on individuals.
By marketing to couples and focusing on language which includes all genders we seek to create a world where acceptance is paramount. It's time for a pronoun revolution. Yes, terminology does matter!
Everybody wants to feel that they matter. The language we use to denote various parts of a wedding invitation should be non-binary and avoid the old labels of 'bride' and 'groom'. Inclusive means that we respect all genders.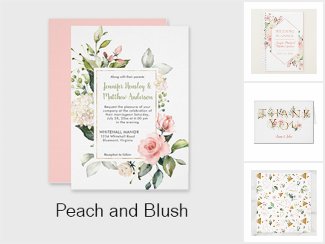 This collection has been a great success for me on Zazzle. I sell lots of invitations and rsvps, as well as the napkins and notebooks. Perfect for Spring/Summer Wedding Pinterest board or a Watercolor Wedding Invitations Pinterest board.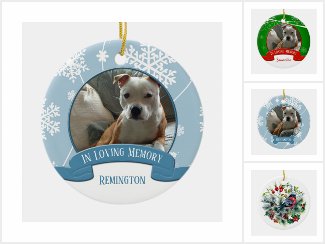 Some regular sellers in this collection. The pet ornaments do well - people really love their animals! Get similar results by pinning these to your Christmas or a pet lover's board. If you haven't got one, make one!
This wedding collection of 70 pieces has already generated some great bulk sales! Beautiful island palm trees, delicate birds in the sky and a giant sunrise over sparkling water, all in eye-catching colors of teal and butter yellow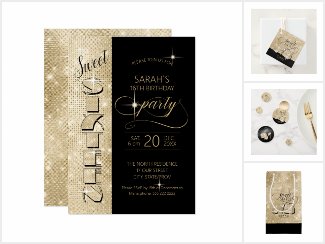 Included in this 118 piece collection are some of my top selling Sweet Sixteen designs all in shades of gold with sparkling gold faux glitter and black or ivory accents. Sweet16 is great for generating those treasured bulk sales year-round
A large collection of business cards designed especially for female customers with lots of glitz and glam as well as more conservative styles. Some top-sellers included in this batch that have sold over 200 times.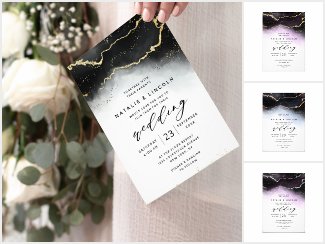 My brand new hand painted moody wedding suite, in 8 colorways to choose from! This is a really popular trend in the wedding category right now, with a gilded touch, brush script lettering, and ombre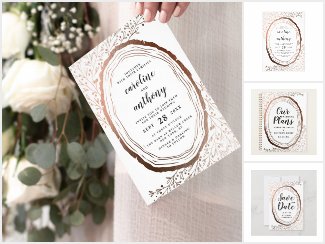 This rustic wedding suite features a hand drawn wood slice, copper foil look, and branches. Perfect for fall autumn weddings, or a barn or farmhouse theme
This beautiful wedding collection is already generating sales and features a hand painted floral design with coordinating stripes and solids. Each item comes in 4-6 different color combinations giving you lots to choose from for promotion.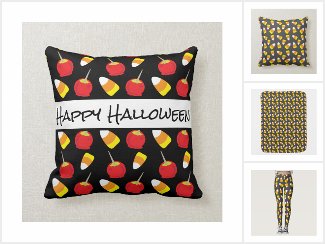 Since now is the perfect time to be pinning for Halloween, here is a Halloween collection featuring lots and lots of products with fun and traditional designs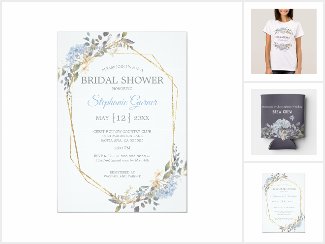 A collection I created for the Zazzle wedding contest that's been a good seller for me. The collection features a romantic botanical watercolor design with dusty blue florals and gold accent frame
A beautiful tropical theme Wedding and Bridal Shower collection of 149 products. It features exotic birds, lovely florals and palm leaves in different styles and includes some of my year-round best sellers. So why not earn from them, too?
This colorful collection of popular note cards contains original whimsical art and abstract designs that make a great gift item to promote.
This artsy collection of mugs features artistic hand painted whimsical art and abstract designs and includes 2 mugs that have repeatedly been featured on Zazzle's sale page for editors picks in the last few months.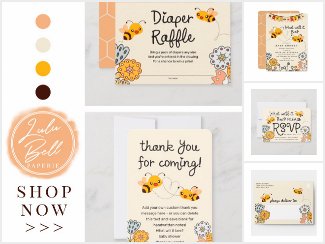 A popular theme for a baby shower for a boy or girl. What will it Bee Gender Reveal Party. Features cute bees & folk art flowers, all in a neutral color palette.
This collection features cards, invitations and gift wrap in a festive red and white Nordic print featuring reindeer and snowflakes which is perfect for any kind of winter or holiday event.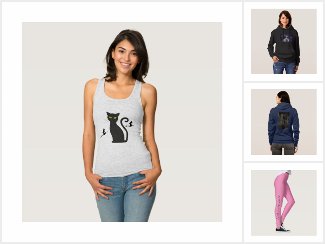 Hello, and welcome to Manitoba Haunted. We have a unique spooky fashion sense that you must check out! :)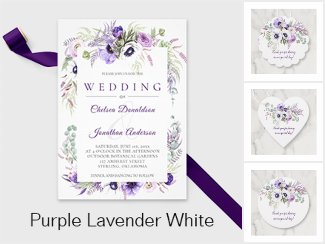 Beautiful floral arrangements in purple, lavender, and white - 30 items covering all the essentials - wine lables included!
A coral-pink themed wedding collection, boho chic inspired with butterflies, that's gone down well with the buying public. 29 items covering most stationery needs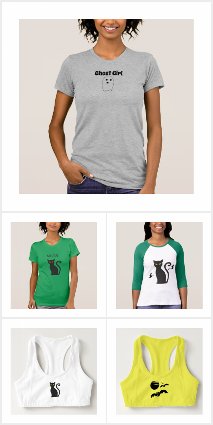 Very cool collection of unique women's clothing! Bored of the norm? Check us out!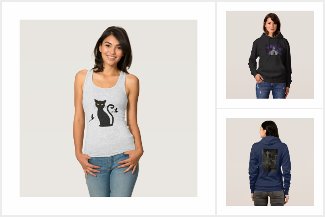 A variety of our most popular designs! Fashionable, fun and unique products to choose from!
Comfy Cushions and Pillows - Pimp your couch, sofa and bed and cuddle up :-)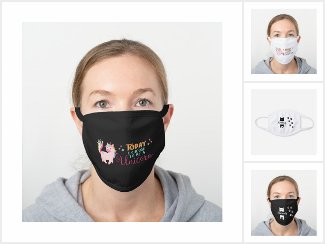 Fun and modern cotton and polyester face masks featuring animals face (cat, dog, lion, bunny, koala), colorful unicorns, lovely cats and adorable dogs, vegan wordings or inspiring quotes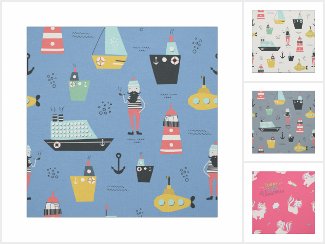 Modern fabric for boys with nautical theme (sailboat, sailorman, ship, anchor and submarine); unicorn theme for girls (rainbow colors and inspiring quote); fun trendy patterns for dog and cat lovers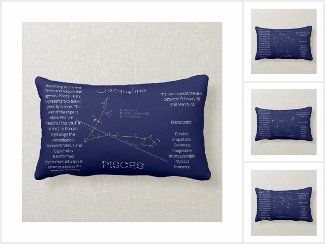 A customizable collection of lumbar pillows. Zodiac constellations. Thirteen pillows featuring the astronomic shape, true star color, the ancient legend, personal traits. 12 signs + Ophiuchus.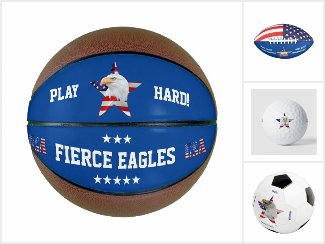 A collection of beautiful USA, America patriotic-themed balls for anyone. Basketball, football, soccer, baseballs - all are customizable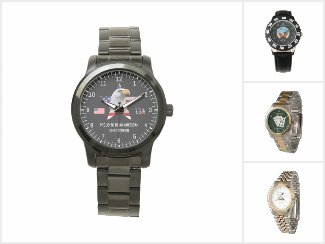 A collection of elegant and funny customizable watches for men and women
Christmas Greeting Cards, with two brand new editors picks! Includes everything from 2020 humor, quarantine bingo and cynic xmas cats to personalized photo and custom holiday recipe share cards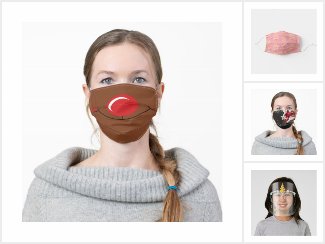 Christmas Cloth Face Masks and Clear Face Shields. From funny Rudolph masks with bright red noses and Santa beards, to gorgeous winter wedding blooms, juvenile xmas trees & dripping holiday glitter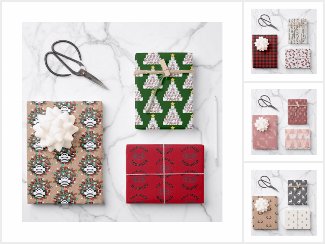 a variety of gift wrapping paper in rolls and sheet form. includes christmas, hanukkah, covid themed, retro graphics, photo templates, name templates, gift tags, ribbon, and more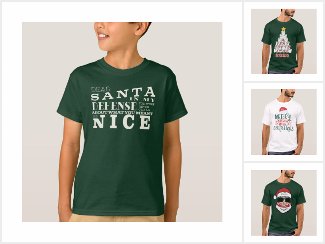 holiday themed attire and other wearable gifts, for everyone in the family
a wide range of holiday greeting cards, including some of Zazzle's top sellers
acrylic, ceramic, and silver metal holiday ornaments for everyone on your list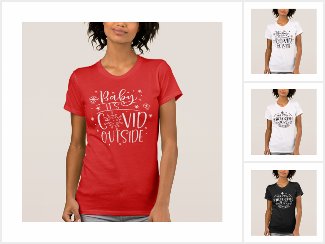 Remember the year 2020, the year of the lockdown, and celebrate Christmas with this commemorative collection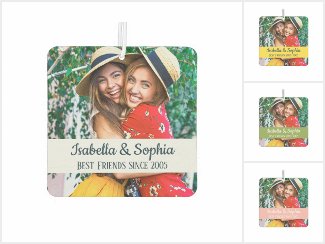 lots of customizable photo gift ideas for best friends: from puzzles to Christmas tree ornaments, from wall clocks to air fresheners