featured collections for affiliates to consider
Get your Zazzle collection featured here learn more...

Fine Art Black and White Photography: a range of posters and prints, some with mock metallic, rivetted frames. Many are architectural, some landscapes and some observational. All use light and line, texture and tone to achieve the story
Artistic iPhone XS phone cases featuring 40+ original folk art designs from whimsical portraits to colorful abstracts that can be customized with name or additional text.
Coral pink cute flamingo is super trendy and Good Vibes message is also very popular; this collection performs well on Zazzle and Pinterest. Let's vibe together!

A growing collection of golf accessories with unique designs you won't find anywhere else, from funny golf balls to classy monogrammed golf towels.
Anything for Happy Valentine's Day to give as a gift, wear, eat or to wrap the gifts for those you love. Mugs, tshirts, greeting cards, wrapping paper and so much more.

Graphic Patterned Clocks: From Retro to Modern, using symbols, shapes and colors to mark the passage of time. Something to grab most anyone's attention.
Photography picturing beaches, ocean and sea turtles from the Hawaiian islands now available on a variety of products such as wall art, pillows, home decor, luggage & tags, jewelry, tote bags, cards, and more.
A romantic and cute collection of valentine day items like mugs, wrapping paper, pillows, greeting cards, phone cases, tote bags, t-shirts, and more, to plan a memorable Valentine's Day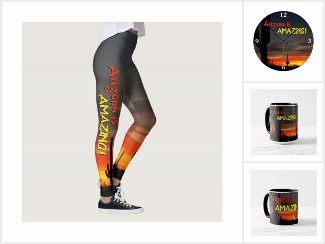 In this collection you will find a variety of products with my popular red and yellow Arizona sunset photo, with and without the text, "Arizona is Amazing!"