If you're a chef and thinking about moving into a new area, such as becoming a Personal Chef, then you'll need new business stationery and marketing material to help you promote it.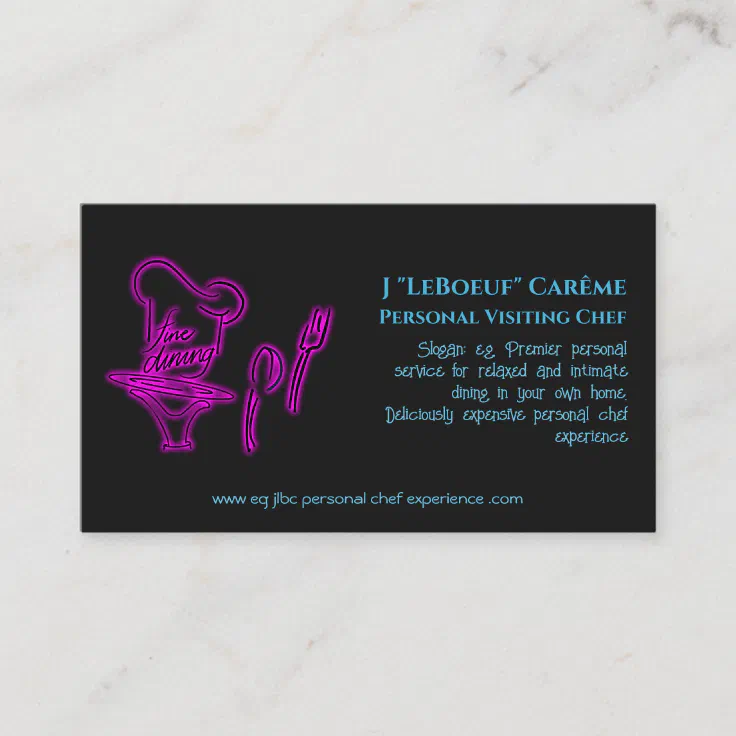 A great business card template for a visiting personal chef who provides fine dining in the privacy of people's homes. All blue text can easily be changed when you click through to Zazzle.
Your new branding / design
Of course, you'll need new branding and design to get across the core of your offering to potential clients, and there you have a choice:
either employ the services of a designer – expensive!
or choose from the thousands of existing templates on Zazzle and make them unique to you – the affordable route
💭
Your brand design also needs to convey things in such a way that what it inspires in a client's imagination is so appealing that they'll want to take the next step with you.
To summarize key aspects:
Core of offering – business name and slogan squarely aligns with it
Stand out from the rest – differentiation (unique-ish) selling point
When imagined by prospect, appeals – get your communications / phrasing right
consistency in branding across domains – business name, logo, slogan across social media / online / real world
Material to consider
essential stationery – business cards, menus, stickers,
others – champagne / wine / liquor bottle labels, window clings, wall and floor decals
marketing giveaways – pens, clocks, shot glasses, matches, coasters, keychains, can coolers, playing cards, lip balm, mouse mats
day-to-day use by you: napkins, placemats, serving trays, aprons, cutting boards, mugs, notebooks, planners
Page through the following Personal Visiting Chef Experience material, all using consistent design and branding:
If you're a designer…
If you're a designer and thinking about business designs for a personal chef then, as well as the above, you'll also want to consider the following.
Consistency in branding
As a designer you'll already know about the importance across all business communications of having the same / consistent:
What you might not know about is how Zazzle can be the perfect 'host' and fulfiller for your designs. With its features to allow you to set template text and template images, your clients can easily replace text and images with their own.